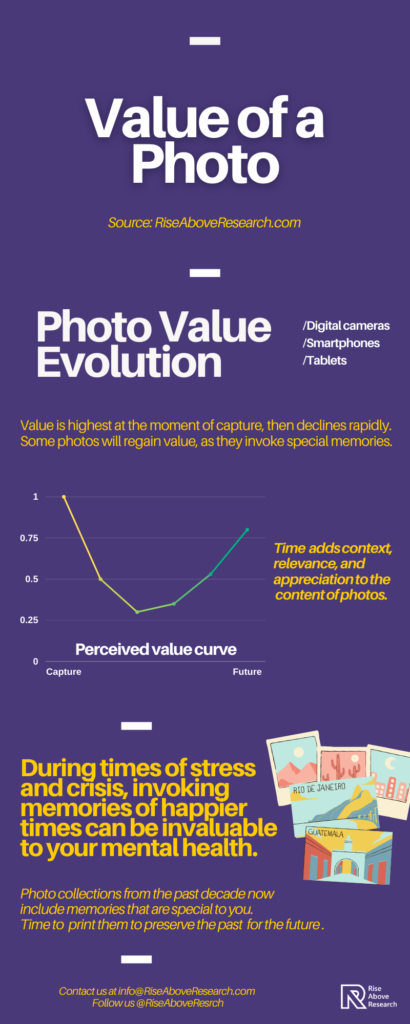 Boston, MA – August 26, 2020 – 2020 has been a very stressful year for millions of people, no thanks to the COVID-19 pandemic. Studies have shown that living with prolonged stress is unhealthy, but recalling specific positive memories and happy life experiences can help with overall well-being and reduce the risk of depression, particularly among young people.
Reliving past milestones, achievements, experiences, and funny moments is a perfect way to remember the good times, and photos are a perfect medium to accomplish this.
It has generally been accepted that the value of a photo is at its highest point right after it is captured and then its value declines rapidly. This has led print vendors and retailers to encourage consumers to print their photos as soon as possible.
"We believe that at some point in time the trend can reverse itself and a photo can regain value as the image becomes a historic memory. In most cases, it will not exceed its initial value, but there are some notable exceptions," says Ed Lee, founder of Rise Above Research.
For instance, two authenticated 140-year old photographs of the outlaw Billy the Kid were sold at auction for $2.3 million in 2011 and $5.0 million in 2015; making them some of the most expensive historic prints ever sold.
While the average consumers' photographs will never be worth this much, some will gain "priceless" status for their owners. Just how long it takes to reach this level and under what circumstances can vary widely depending on situations.
When it comes to family photos, looking back at photos from the past decade that at the time of capture were just casual snapshots can bring back happy memories for families, as well as for friends and relatives. Some of these photos have increased in sentimental value over time and are print-worthy candidates today. Why keep them locked up on a hard drive or a phone when they can be printed, displayed, and enjoyed every day?
It is time to preserve the past for the future.
About Rise Above Research, LLC
Rise Above Research, LLC is an independent market intelligence and strategic consulting firm that supports industry vendors, service providers, and retailers with actionable intelligence to assist them in making effective decisions in fast-paced digital photography and imaging markets. Established in 2020 by industry veterans Ed Lee and David Haueter, Rise Above Research has extensive experience providing groundbreaking market research and strategic consulting for the digital imaging industry. Our industry analysts have a combined 40+ years of covering a wide variety of imaging markets.
---