Sparta, NJ – April 26, 2023– The photo merchandise market is expected to show growth over the next few years despite challenges from inflation and economic uncertainty, according to Rise Above Research's 2023 US Photo Merchandise Forecast.  
2023 will see an overall increase of just under 3% in unit sales, driven by increases in every product area. Sales of photo cards, photo books, photo calendars, and photo wall/tabletop décor are expected to generate over $2.7 billion in 2023, which is an increase of 3.5% over 2022. Unit sales unit increases are expected to be around 1.5% through the forecast period.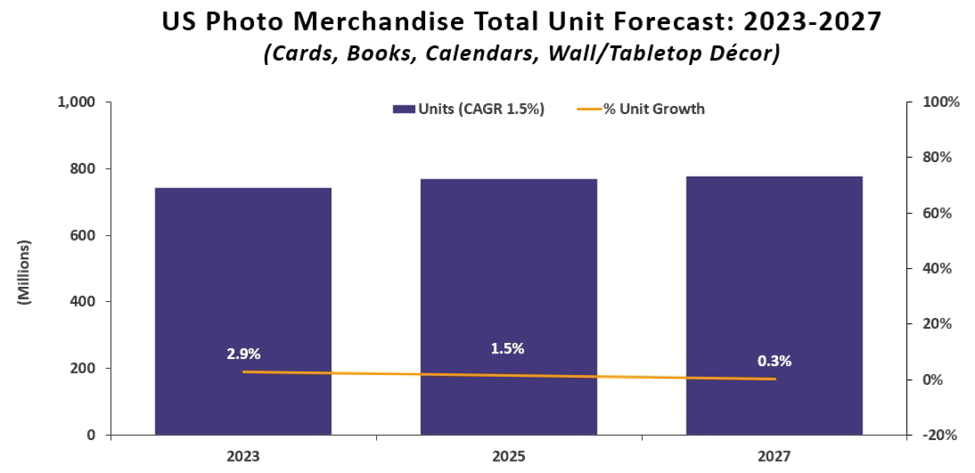 "The resilience of the photo merchandise market has been evident over the last few years, as the market recovered from the pandemic and is now continuing to grow despite economic concerns and inflation," said David Haueter, director and founder at Rise Above Research. "Products like wall décor and photo books make meaningful gifts and are a great value, and there are many consumers who order photo cards and calendars on a regular basis," he added.
The 2023 US Photo Merchandise Forecast provides a five-year forecast for the products mentioned above and includes units, revenue, average selling prices, and breakouts of online versus retail order channels. Commentary on key drivers and barriers impacting the market is also provided.
About Rise Above Research, LLC
Rise Above Research, LLC is an independent market intelligence and strategic consulting firm that supports industry vendors, service providers, and retailers with actionable intelligence to assist them in making effective decisions in fast-paced digital photography and imaging markets. Established in 2020 by industry veterans Ed Lee and David Haueter, Rise Above Research has extensive experience providing groundbreaking market research and strategic consulting for the digital imaging industry. Our industry analysts have a combined 40+ years of covering a wide variety of imaging markets.